Registration Process
While it can be a challenge to prepare to go back to school, registering for online courses at Northwestern College is a simple process. Graduate School students may register beginning on the first day registration opens for the on-campus students at Northwestern. The academic calendar also shows the dates for the upcoming terms.   
The first step is to log into your MyNorthwestern account and choose "Registration" under the "Academics" tab. In the middle of the page, click the hyperlink that says "Add/Drop Courses" and check that the correct session and year is listed in the Term dropdown box.
Graduate students will also want to ensure "Graduate Program" is listed in the Student Program and Program dropdown boxes. Make sure you agree to the terms of the Registration Agreement.  
Next, students can add the courses they want to register for by entering the appropriate course code. For example, enter EDU525-01 for section 01 of Advanced Child Development.
 If you have any questions, contact your academic advisor or the registrar's office ( registrar@nwciowa.edu).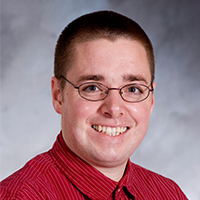 Meet the Author
Austin is the Associate Registrar for Northwestern College. He has the opportunity to work with both traditional on-campus students as well as online students.
Austin also understands the balance of continuing education while working full time. He is currently pursing his Masters of Business Administration online.