Athletic Training M.S. Prerequisites
Next start June 2021 | Credits 57 | Cost/credit $525 | Program length 2 Years (6 semesters) | Format In-person
Students apply directly to the graduate program following completion of any undergraduate degree and will be eligible for acceptance based on the following criteria:
  Completion of ATCAS application including the following:

Official college transcripts
Personal narrative
Professional recommendations
Athletic training observational experiences

Completion of Northwestern AT Program ATCAS questions 

Short-answer questions regarding the applicant's experience.
NO application fee

Two letters of recommendation (One from the athletic trainer who oversaw the majority of exploration hours and one from a professor in a major or science course.)
Minimum of 50 hours of athletic training exploration with a certified athletic trainer
Baccalaureate degree from a regionally accredited institution, or internationally recognized equivalent

Accepted students will be required to submit official transcripts prior to matriculation

Meet the  AT Program Technical Standards 
Overall and prerequisite course GPA of 3.0 or higher on a 4.0 scale 


Conditional admission may be considered for students with a cumulative GPA of 2.7-3.0.

Completion of prerequisite courses with a C or better in each course 

These courses must be completed at a regionally accredited institution
Six of the nine required courses must be completed by the time of application

If an applicant has not completed all prerequisite courses, they must complete a Plan for Requirement Completion form. The form is available in Northwestern's ATCAS application or contact us directly to request the form.

No prerequisite course may be taken more than twice.
Pre-requisite courses
Biology (3-4 credits or 1 term)
Anatomy & Physiology (8 credits or 2 terms with labs)
Chemistry (4 credits or 1 term with lab)
Physics (3-4 credits or 1 term)
Exercise Physiology (3-4 credits or 1 term)
Kinesiology/Biomechanics (3-4 credits or 1 term)
Psychology (3-4 credits or 1 term)
Statistics
Recommended courses
---
Guaranteed application process for Northwestern College graduates
Admission to the NWC MSAT program is competitive, and the Northwestern College MSAT program plans to accept approximately 15 students per year. Any Northwestern College graduate who completes all application materials and meets all admissions criteria will be granted a guaranteed spot in the Northwestern College's MSAT Program.
---
Accreditation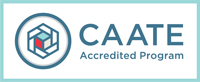 Northwestern College is accredited by the Commission on Accreditation of Athletic Training Education ( CAATE) for the Master of Science in Athletic Training program.