Tuition & fees  
Athletic Training program costs
For cohorts beginning summer 2020 and 2021

Year 1

Year 2

Year 3

Totals

Tuition ($700/credit)*
$7,000 (10 cr)
$21,700 (31 cr)
$11,200 (16 cr)
  $39,900
 
 
 
 
 
Fees paid to NWC
 
 
 
$1,670 
Application Fee
$40
 
 
 
Lab Supplies and Fees 
$300
$250
 
 
eValue ($50/Semester)
$50
$150
$100
 
BOC Practice Exam
 
 
$30
 
Technology Fee ($100/semester)
$100
$330
$220
 
Graduation Fee
 
 
100
 
Total tuition & fees
 
 
 
$41,570 
Student Responsibilities
(not paid to NWC)
 
 
 
$2,740 
Books and Supplies (includes a computer)
$1,000 
$1,000 
$250 
 
NATA Student Membership
$80
$80
$80 
 
Document Review, Background Checks, Onboarding
$200
$50
 
 
Immunizations
Varies by student
 
 
 
Personal expense estimate
(allotted for financial aid)
 
 
 
 
Room and Board
Varies by student
 
 
 
Transportation
(students are responsible for their own transportation to and from all clinical sites)
Varies by student
 
 
 
Professional Meetings and Travel Expenses
Varies by student
 
 
 
Miscellaneous
Varies by student
 
 
 
*This estimate does not include loan fees which will vary depending on the type of loan. 
This page is intended to provide estimates for prospective students. Exact costs may change, and the costs of tuition and fees are subject to change for future cohorts. 
Financial aid & resources
Continuing your education is more than a time investment.
Below are a few resources that may help you finance your master's degree with Northwestern College.
Contact an  enrollment counselor for more information on specific financial aid available. 
Policies and Procedures for refunding tuition and fees can also be found in the   Northwestern Graduate Catalog (page 16).
FAFSA
Students may be eligible for federal and/or state financial aid. 
To determine your eligibility, you must: 
Complete the  FAFSA. with Northwestern's institutional code:  001883.
After acceptance into your program, Northwestern's financial aid office will put together a financial aid package for you.
Military benefits
If you're a veteran or active in the military, you're welcome at Northwestern and we're grateful for your service. Northwestern College participates in the Yellow Ribbon Program. Contact the registrar's office to learn more about your GI Bill benefits.
---
Accreditation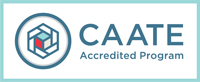 Northwestern College is accredited by the Commission on Accreditation of Athletic Training Education ( CAATE) for the Master of Science in Athletic Training program.