Carol Kleyer Instructor in Nursing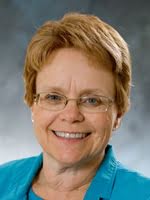 Education:
M.S.N., Briar Cliff University
B.S.N., Morningside College
712-707-7374
ckleyer@nwciowa.edu
SCI 126
Professor Kleyer has a Master of Science in Nursing degree from Briar Cliff University. Her patients have ranged from pediatric to geriatric, and her nursing experience includes medical clinic, emergency room, coronary care, labor and delivery, post-partum, and medical-surgical. She also has coordinated nursing care in a 50-bed longterm care facility. Her research interests include older adults, teamwork and leadership. Previous teaching experiences include instructing certified nurses aide courses, training nursing staff, and implementing volunteer programs.
NUR260 - Fundamentals of Nursing
Based on a Christian worldview and the framework of nursing as a healing ministry, human science and performing art, this course provides the foundation for application of the nursing process with diverse pediatric and adult clients in acute and chronic illness. On-campus laboratory precedes clinical experiences and as a means to promote shalom. These experiences provide opportunity to develop knowledge and beginning nursing aptitudes in intervening with the care of individual clients across the lifespan. Prerequisites: Admission to the BSN program and BTS 150. Concurrent requisites: NUR 220, BIO 203, and PHI 214BR. (3 credits, 2:1) A fee is associated with this course.
NUR290 - Geriatric Nursing
Based on a Christian worldview, this course explores multidimensional aging processes and the holistic health experience of older individuals from the perspective of a Christian worldview. Emphasis is placed on nursing as a healing ministry, human science and performing art to promote shalom with older adults. Application of the nursing process in health promotion and care of common geriatric care concerns is accentuated. Service- earning experiences, faith reflection, and literature and the arts are integrated as strategies to more fully understand (a) the experience of older adults with diverse backgrounds, and (b) personal values, attitudes, practices and ethics, as well as those evident in government policies, community planning and the health care and social service delivery system. The clinical component provides an opportunity for nursing practice in community-based and acute care settings with older adults, assisting students to integrate knowledge, aptitudes and compassionate care in health promotion, restoration and maintenance, and living the three nursing practice dimensions (illuminating meaning, synchronizing rhythms and participating in transcendence). Prerequisites: NUR 220, NUR 260, and BIO 203. Concurrent requisite: NUR 280. (3 credits, 2:1)
Charge Nurse, Orange City Area Health System, Orange City, Iowa
Nurse Manager, Orange City Area Health System
Staff Registered Nurse, Orange City Area Health System
Staff Registered Nurse, Hegg Memorial Health System, Rock Valley, Iowa