Northwestern's master's programs in counseling set to launch May 16
Thursday, May 5, 2022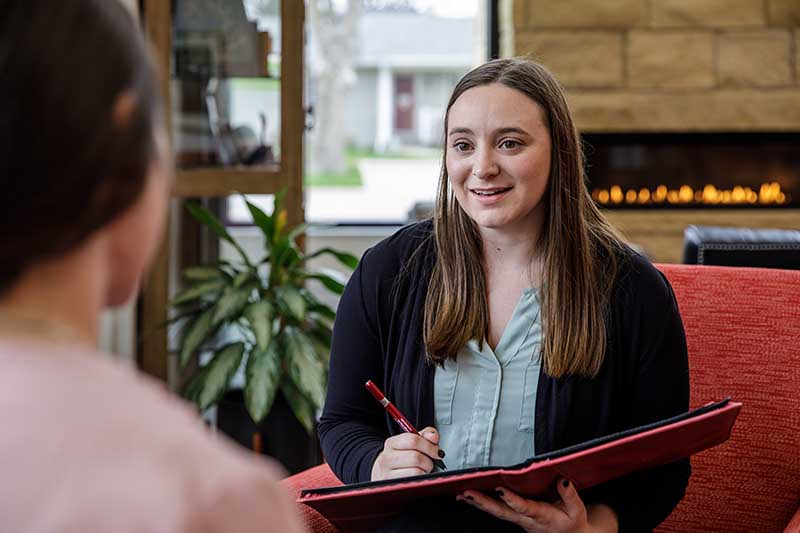 Northwestern College's new online master's degree programs in clinical mental health counseling and school counseling will launch May 16. About 15 students will be enrolled.
Dr. Gregory Elliott, director, has been working with other members of the Northwestern College Graduate School staff since August to build the programs, including developing curriculum and courses, establishing policies and expected learning outcomes, hiring faculty and recruiting students.
"We look forward to producing outstanding counselors who love Jesus Christ and seek to be part of God's mission of restoration and healing for hurting people."
"I'm excited that the programs are about to begin," says Elliott. "We look forward to producing outstanding counselors who love Jesus Christ and seek to be part of God's mission of restoration and healing for hurting people. It's been fun to incorporate the best aspects of other programs into this one and to develop courses that are academically rigorous, build on each other to help prepare future counselors, and are as intuitive and accommodating as possible."
The clinical mental health counseling program is designed to be completed in two years by taking two eight-week courses at a time. The school counseling program is set up to be completed by working professionals in three years.
Northwestern's counseling programs are aligned with the standards and competencies of the Council for the Accreditation of Counseling and Related Educational Programs (CACREP), from which the college will apply for accreditation after the first cohorts graduate. Only three programs in Iowa are CACREP-accredited.
Other distinctives of Northwestern's counseling programs, says Elliott, include a commitment to integrating the Christian faith and building a Christ-centered community, as well as continuing the high-quality education for which Northwestern's graduate and undergraduate programs are recognized.
The programs' first cohorts include students who are coming directly from their undergraduate experience as well as those seeking a career change. The majority of students hail from Iowa, with South Dakota, Minnesota and South Carolina also represented.
Elliott, who has extensive clinical practice experience and a specialization in working with suicidal clients, served as the 2020–21 president of the Colorado Counseling Association and is chair-elect of the American Counseling Association's Western Region. He joined Northwestern's administration after teaching in the graduate counseling program at Colorado Christian University, where he was honored with an Outstanding Faculty Award last year. Northwestern is in the process of hiring another full-time faculty member and has a cadre of highly experienced counselor educators prepared to serve as adjuncts.
For more information about the programs, visit nwciowa.edu/graduate/counseling.
Counseling becomes the third master's degree program offered by Northwestern. An online Master of Education program with eight tracks was begun in 2015. The first cohort of Northwestern's 27-month, on-campus master's degree in physician assistant studies program will graduate in August.