Chris Yaw '92 Professor of Practice, Education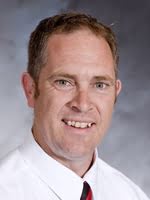 Education:
M.S., Buena Vista University
B.A., Northwestern College
712-707-7294
cyaw@nwciowa.edu
VPH 200E
Chris Yaw has 17 years of experience as a teacher and school administrator, having served as both a middle school math instructor and a middle school principal. He also taught for a year in the health and human performance department of Wayne State College in Wayne, Nebraska.
Yaw teaches both graduate educational administration and undergraduate education courses at Northwestern.
EDU102 - Foundations of Education
(2 credits) This course provides philosophical, historical, social and economical foundational background for students considering the teaching profession. Note: This course includes a field experience. Students must earn a C- or better in order to fulfill program requirements for elementary licensure.
EDU202 - Early Field Experience
This course requires 30 clock-hours of field experience with a certified teacher in an area school. Prerequisite: EDU102. (1 credit) (Note: Graded on a pass/no pass basis.)
EDU203 - Early Field Experience-Middle School
This course requires 30 clock-hours of field experience with a certified teacher in an area middle school. Prerequisite: EDU102. (1 credit) (Note: Graded on a pass/no pass basis.)
EDU312 - Middle School Methods and Curriculum
This course focuses on the philosophy of the middle school, organization of the curriculum, effective teaching strategies, and assessment. This course includes a 5 hour field experience. Prerequisite: junior class standing. (3 credits, alternate years, consult department)
Middle School Math Instructor, MOC-Floyd Valley Schools, Orange City
Middle School Principal, Spencer Middle School, Spencer, Iowa
Instructor, Health and Human Performance Department, Wayne State College, Wayne, Nebraska
Co-authored and received Iowa Star Schools Grant