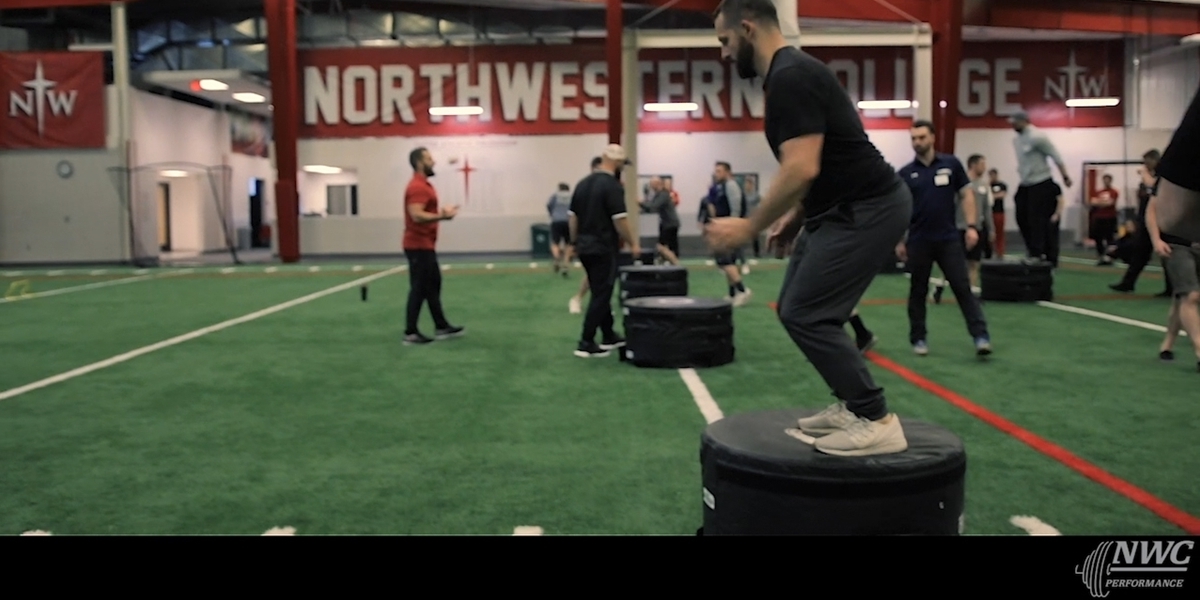 NWC Performance Clinic
Saturday, May 6th, 2023
8:30 a.m. to 5:00 p.m. Central Time
Juffer Athletic Fieldhouse, Northwestern College
Get Directions |  View Campus Map
In-person or virtual tickets are available
Registration Cost
February 1st - 28th: $50
March 1st - 31st: $75
April 1st - May 6th: $95
Students: $40       
The 6th annual Performance Clinic features human performance experts sharing cutting-edge information for professionals in strength and conditioning, personal training, physical therapy, coaching, physical education and others who work with performance athletes and active populations. Take away relevant strategies to effectively motivate and enhance their performance.
In-Person or Virtual 
Join us on-campus or live through a virtual broadcast. While we highly encourage everyone to join us in person, as it greatly enhances your ability to network with other professionals in the field, we understand that this may not always be a viable option. Simply select the option you prefer during registration.
Continuing Education Credit 
Pending approval by the National Strength and Conditioning Association (NSCA). 
Registration closes at  5pm on Friday, May 5th. Please email   online@nwciowa.edu with questions about registration.
---
Speakers and Topics
---
 

Dan John     
Coach and Author, Murray, UT

Session topic 1: Easy Strength
Session topic 2: The Art of Relearning as a Strength Coach

Dan John is a Senior Lecturer at Saint Mary's University in Twickenham, England. He has been lifting since 1965 and has won national championships in the discus throw, Olympic lifting, Highland Games and the Weight Pentathlon.  He recently was awarded a Lifetime Achievement Award from Great Britain for his contributions in this field. A Fulbright Scholar, he has a vast experience in scholarship, academics, and athletics. Dan has advanced degrees in history, religious education, and has studied at University of Haifa, the American University of Cairo, and Cornell. His published works include bestsellers such as Never Let Go, Mass Made Simple, and Intervention (among a dozen other published works). He is the grandfather to three and continues to write, coach, train, and lecture to practically every fitness and performance level.

 

Logan Ogden, BS, MS, SCCC, CSCS, FRCms, USAW-1, RPR-2  
Director of Basketball Sports Performance, The University of Utah

Session topic: In-Season Training – Executing a Mircrodosing Training Model

Logan Ogden is the Director of Basketball Sports Performance for the Runnin' Utes men's basketball program at the University of Utah. Prior to his time at Utah State, Ogden spent three years at Omaha as an assistant strength and conditioning coach for two seasons before being elevated to director of strength and conditioning in January of 2017. In that position, he directed all aspects of training for the Maverick men's and women's basketball, track & field and cross country programs.

He also spent two seasons as an assistant strength and conditioning coordinator at Augustana College in Sioux Falls, S.D., after serving as a graduate assistant at South Dakota State. While in Brookings, S.D., Ogden was responsible for the track & field, cross country, equestrian and cheerleading while assisting with men's and women's basketball, volleyball, baseball, softball and football.

A two-sport student-athlete at Northwestern College in Orange City, Iowa, Ogden participated in both track & field and football. In 2011 he earned NAIA All-America honors in track & field. Ogden was also a two-time GPAC all-conference selection in football. Logan graduated from Northwestern College in 2011 with a degree in exercise science before earning a master's in exercise physiology and human performance from South Dakota State in 2014.

 

Megan Denhof     
Mental Skills Coach, Mentally Strong Consulting

Session topic: Utilizing Performance Psychology and Mental Skills Training to Enhance Athletic Performance 

 

Matt McCarty 
Head Football Coach, Northwestern College    


Session topic: Developing a Culture of Excellence

Matt has completed his seventh season as Head Football Coach at Northwestern College after serving as the program's defensive coordinator for 11 years.  The Raiders are 67-18 over the last seven years and have qualified for the NAIA playoffs for each of the last six seasons. Over the last three seasons the Raiders advanced to the National Championship game twice – finishing as National Runner-up in 2020 before winning the program's third National Championship in 2022. McCarty was named AFCA NAIA National Coach of the Year in 2022 and serves as 1st Vice President of the AFCA NAIA Football Coaches Association.
---
Clinic Partnership
The Performance Clinic is hosted by Northwestern College Athletic Performance with support from the Graduate School & Adult Learning. 
Thank you to our clinic sponsor: Orange City Area Health System Sports Medicine.