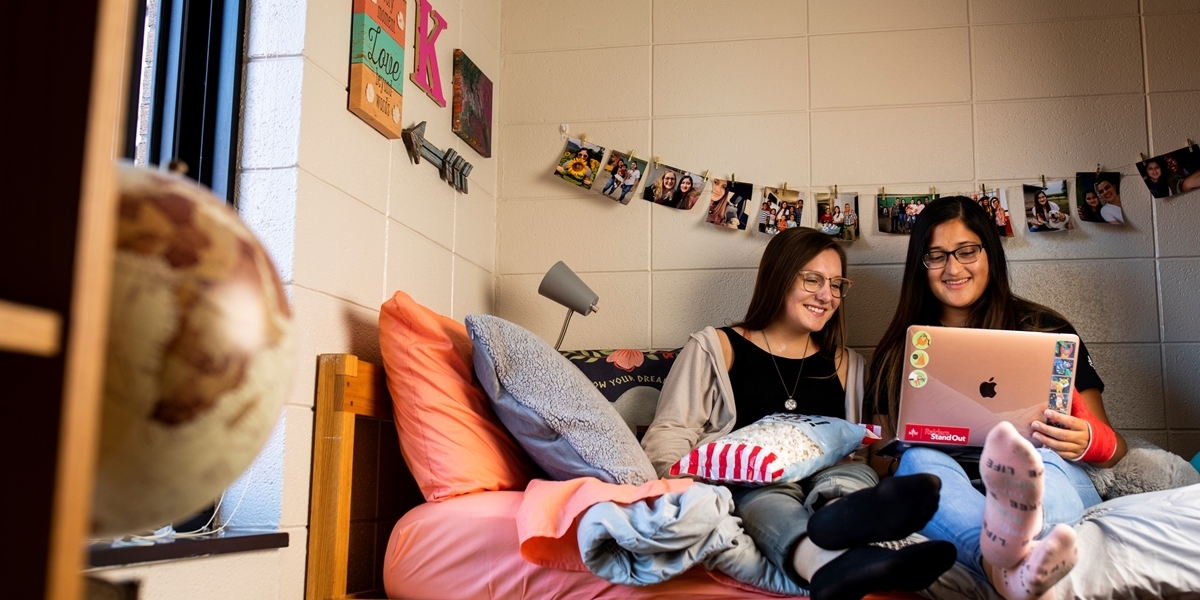 Vida universitaria
Comunidad. Los alumnos describen lo que más les encanta de Northwestern College de la siguiente manera: "Yo encajo aquí. La gente me acepta tal como soy. Northwestern es mi hogar". Al vivir con amigos no solo se forman buenos recuerdos de la universidad, sino que también se desarrolla la capacidad de pensar como cristiano en el mundo de hoy en día.
Actividades y eventos
Northwestern no es solamente para los días hábiles; los jóvenes se quedan los fines de semana e indican que la espontaneidad y la forma aleatoria (y, además, barata) de crear su propia diversión es lo que forma recuerdos inolvidables. Sin embargo, los alumnos también participan en eventos programados. El Consejo de Actividades Estudiantiles es muy creativo y llena la agenda con bailes, conciertos, noches de micrófono abierto y tradiciones como " Clash of the Classes" ("batalla entre años académicos"). Asimismo, ponentes de renombre nacional llegan a exponer sobre temas de actualidad. También, las diferentes asociaciones estudiantiles patrocinan eventos como " Night-in-a-Box" ("pasar la noche en una caja") para fomentar la toma de conciencia sobre la gente desamparada. Además, cada semana se ofrecen recitales, obras teatrales, exposiciones de arte y competencias deportivas de los Raiders—todo a un paso de distancia.
Vida en las residencias
Northwestern cuenta con cuatro residencias estudiantiles tradicionales, una residencia al estilo suite, y dos complejos de apartamentos estudiantiles. Para los alumnos, la vida en las residencias es una de sus cosas favoritas de la universidad, ya que los vínculos que comienzan a formarse en las mismas – a través de las conversaciones nocturnas, la ayuda con las tareas, y el compartir música y películas – convierten a los amigos en familia.
La vida en las residencias de Northwestern es distinta (y mejor) que en otras universidades por lo siguiente:
Casi el 90% de los alumnos vive en el campus y muchos se quedan durante los fines de semana.
Hay encargados estudiantiles de residencia (RA) en cada ala y/o piso y directores profesionales de residencia (RD) en cada vivienda a fin de conocer y cuidar a cada alumno y desafiarle a ser una mejor persona.
A diferencia de otras universidades, en las que solamente los alumnos de primer año viven en las residencias estudiantiles, muchos alumnos de tercer y cuarto año deciden seguir viviendo en ellas a fin de convivir con los alumnos de primer y segundo año y ser sus mentores
Deportes y salud
Para aquellos alumnos que prefieren estar en buena forma física, Northwestern ofrece una variedad de opciones. Hay partidos informales de baloncesto y fútbol durante la semana, y muchos alumnos frecuentan la pista cubierta, la sala de levantamiento de pesas y las instalaciones de entrenamiento físico del DeWitt Physical Fitness Center. Aproximadamente la cuarta parte de los alumnos participa en las actividades intramuros, y casi la mitad pertenece a un equipo deportivo de competencia interuniversitaria.
Los equipos deportivos de Northwestern, los Red Raiders, forman parte de la liga deportiva Great Plains Athletic Conference (GPAC), una de las más competitivas de la NAIA, y los Red Raiders han obtenido ocho títulos nacionales desde 2001. Hay equipos atléticos para alumnos y alumnas en los siguientes deportes:
| | |
| --- | --- |
|  Para muchachos: |   Para muchachas: |
|  Baile competitivo |  Baile competitivo |
|  Baloncesto |  Baloncesto |
|  Béisbol |  Campo a través |
|  Campo a través |  Campo y pista |
|  Campo y pista |  Fútbol |
|  Fútbol |  Golf |
|  Fútbol americano |  Porrista competitiva |
|  Golf |  Softbol |
|  Lucha libre |  Tenis |
|  Porrista competitivo |  Vóleibol |