Rick Loutsch Instructor in Athletic Training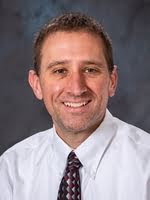 Education:
M.S., B.S., University of Iowa
712-707-7319
rloutsch@nwciowa.edu
Bultman Center
Rick Loutsch serves as the clinical coordinator, assistant athletic trainer, and an instructor for Northwestern's athletic training program. He majored in exercise science and athletic training at the University of Iowa and then earned a master's degree in exercise science from his alma mater. Loutsch has served as an athletic trainer for NAIA national wrestling and women's basketball tournaments. He has also worked as an athletic trainer for the Center for Neuroscience Orthopedics & Spine in Dakota Dunes, S.D. He is board certified (BOC) and holds Iowa credentials as an athletic trainer.
KIN234L - Prevention and Care of Athletic Injuries Lab
A fee is associated with this course.
KIN251 - Practicum in Athletic Training I
Provides practical experience with skills related to the prevention and care of athletic/physically active individual's injuries. This course will provide competency and proficiency assessment of student's knowledge and skills gained to ensure learning over time.Prerequisites: KIN151 and 152, and acceptance into the athletic training education program.(1 credit)
KIN252 - Practicum in Athletic Training II
Provides practical experience with skills related to recognition and evaluation of athletic/physically active individual's injuries in the upper extremity and cervical/thoracic spine regions. This course will provide competency and proficiency assessment of student's knowledge and skills gained to ensure learning over time.Prerequisites: KIN151, 152 and 251, and acceptance into the athletic training education program.(1 credit)
KIN342 - Therapeutic Interventions
KIN351 - Practicum in Athletic Training III
Provides practical experience with skills related to recognition and evaluation of athletic/physically active individual's injuries in the lower extremity and thoracic/lumbar spine regions. This course will provide competency and proficiency assessment of student's knowledge and skills gained to ensure learning over time.Prerequisites: KIN251, 252 and acceptance into the athletic training education program.(1 credit)
KIN352 - Practicum in Athletic Training IV
Provides practical experience in developing knowledge of other health care professionals and other important issues regarding the overall health and well-being of athletes/physically active individuals. This course will provide competency and proficiency assessment of student's knowledge and skills gained to ensure learning over time.Prerequisites: KIN251, 252, 351 and acceptance into the athletic training education program.(1 credit)
KIN451 - Practicum in Athletic Training V
Provides practical experience with skills related to modalities and the psychosocial aspects of the athlete/physically active individual. This course will provide competency and proficiency assessment of student's knowledge and skills gained to ensure learning over time.Prerequisites: KIN351, 352 and acceptance into the athletic training education program.(1 credit)
KIN452 - Practicum in Athletic Training VI
Provides practical experience with skills related to rehabilitation and the organization and administration in athletic training. This course will provide competency and proficiency assessment of student's knowledge and skills gained to ensure learning over time.Prerequisites: KIN351, 352, 451 and acceptance into the athletic training education program.(1 credit)
National Association of Athletic Trainers (NATA)
Mid-America Athletic Trainers'Association
Iowa Athletic Trainers' Society