Matt McCarty '03 Instructor in Kinesiology; Head Football Coach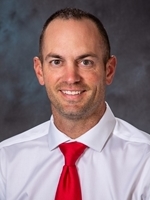 Education:
M.S., California University
B.A., Northwestern College
712-707-7320
mattmcc@nwciowa.edu

In addition to his position as lecturer in kinesiology, McCarty serves as head coach for the Red Raider football team. He was the team's defensive coordinator for 11 years and also served as assistant head coach from 2012 to 2015. A defensive back during his undergraduate experience at Northwestern, he earned a bachelor's degree in education before going on to earn a master's degree in sport management from California University.
KIN115 - Personalized Physical Fitness
(1 credit)
KIN127 - Weight Training
(1 credit)
KIN182 - Introduction to Sport Management
(2 credits) This course introduces students to the sport and fitness industry, the wide range of career opportunities involving sport, and the social and economic impact of sports on our culture. The course content includes theoretical and applied foundations of sport management. Topics include history of the profession, the need for management and organizational skills, current trends, and future issues.
Director of athletic recruiting, Northwestern College, 2007-2015
Football camp coordinator, Northwestern College, 2007-2015
Athletic event staff, Northwestern College, 2005-2015
Led all levels of college football in yards/play & pass defense eff. (2014)
Ranked 1st nationally in Total Defense (2014)
Ranked 1st nationally in Scoring Defense (2014) (2nd in 2008)
Ranked 1st nationally in 3rd Down Defense (2014)
Ranked 1st nationally in Pass Defense Efficiency (2014)
Ranked 2nd nationally in Total Sacks (2012) (3rd in 2014)(7th in 2013)
Ranked 3rd nationally in Total Defense (2006) (4th in 2008)
Ranked 3rd nationally in Pass Defense (2008)
Ranked 6th nationally in Rush Defense (2006 & 2012) (8th in 2010)
NAIA Football Championship Series Quarter-Finalist (2006)
NAIA Football Championship Series Qualifier (2012, 2013, 2014)
Coached 18 NAIA All-American defensive players and 20 NAIA Scholar Athletes
Coached 27 - 1st Team, 14 - 2nd Team, and 40 H.M. All-GPAC players
Coached Great Plains Athletic Conference Player of the Year (2006)
Coached Great Plains Athletic Conference Defensive P.O.Y. (2008, 2012, 2014)