Kyle Ochsner '09 Professor of Practice of Kinesiology; Director of Athletic Performance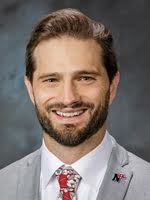 Education:
M.S., Texas Tech University
B.A., Northwestern College (IA)
USAW, SCCC
CSCCa - Approved Mentor
712-707-7414
kochsner@nwciowa.edu

Kyle Ochsner joined Northwestern in 2012 as the Red Raiders' first full-time head strength and conditioning coach. He develops and oversees the strength and conditioning programs for many of the Red Raider athletic teams and teaches courses for the strength and conditioning career concentration.

Ochsner was a strength and conditioning assistant at the University of Minnesota, where he managed and implemented programs for men's and women's hockey and golf, men's track and field, swimming and diving, basketball, and baseball. He also was the head strength and conditioning coordinator for Woodbury High School in Minnesota and an athletic performance coach for the Catalyst Institute in Hudson, Wisconsin. At both locations he was responsible for the performance enhancement of a variety of athletic teams and individuals year round.

Ochsner was a wrestler, sprinter, and running back and captain of the Red Raider football team while a student at NWC. After graduating with a major in athletic training and a career concentration in fitness management, he earned a master's degree from Texas Tech University in exercise and sports science.
Strength and Conditioning Assistant, University of Minnesota (2011-2012)
Head Strength and Conditioning Coordinator, Woodbury High School (MN) (2011-2012)
Athletic Performance Coach, Catalyst Institute (WI) (2011-2012)
Strength and Conditioning Graduate Assistant Coach, Texas Tech University (2009-2011)
Exercise Science Instructor, Texas Tech University (2009-2011)
Student Strength and Conditioning Coach, Northwestern College (IA) (2008-2009)
Student Athletic Trainer, Northwestern College (IA) (2006-2009)
Collegiate Strength and Conditioning Coaches Association (CSCCa)
National Strength and Conditioning Association (NSCA)
United States Weightlifting (USAW)   
National Football Foundation & College Hall of Fame Hampshire Honor Society, 2009