Kris Korver '92 Instructor in Kinesiology; Head Men's Basketball Coach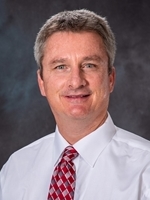 Education:
M.S.Ed., California State University
B.A., Northwestern College
712-707-7281
kkorver@nwciowa.edu

A graduate of Northwestern College, Kris Korver served as an admissions counselor for the college after graduating with a bachelor's degree in history, secondary education and coaching. He coached the boy's basketball team and taught U.S. history at Valley Christian High School in Cerritos, Calif., before joining Northwestern's coaching staff in 2000.
KIN124 - Racquetball
(1 credit)
KIN300 - Coaching Methods
(2 credits) A study of organization skills, interpersonal relations and psychological approaches to coaching athletes and teams in contemporary society.
NAIA men's basketball champions, 2001 and 2003
Head boy's basketball coach, Valley Christian High School
NAIA Coach of the Year, 2001
Four-time GPAC Coach of the Year