Dan Swier '06 Instructor in Kinesiology; Head Men's Soccer Coach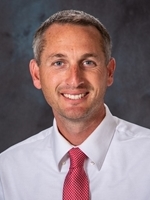 Education:
M.S., University of Texas at Arlington
B.A., Northwestern College
712-707-7279
dswier@nwciowa.edu
RSC 133
After earning his bachelor's degree in exercise science from Northwestern College, Dan Swier went on to earn a master's degree in exercise physiology from the University of Texas at Arlington. In 2008 he began coaching and teaching at Northwestern College. Swier has been a national rater for NAIA men's soccer since 2015 and has been serving on the National Selection Committee for NAIA men's soccer since 2018. He has been the director of coaching for the Orange City Recreational Soccer Program since 2009. Swier runs several high school camps each summer at local high schools in addition to teaching online courses through Northwestern's distance learning program.
KIN120 - Soccer Activity
(1 credit)
KIN210 - Personal and Community Health
(2 credits; alternate years, consult department) A foundational course designed for students to become informed about health as well as becoming responsible and active participants in the maintenance of their personal health and affecting the health of their community. The course is intended to provide a comprehensive coverage of health promotion, mental health, stress management, afflictions and diseases, aging, dying and death, safety and accident prevention, environmental health, consumerism and health care and promotion. Prerequisite: KIN101.
KIN236 - Nutrition for Life
(2 credits; alternate years, consult department) The study of principles of nutrition and the application of these principles to a healthy lifestyle.
KIN237 - Substance Abuse
(2 credits; alternate years, consult department) The study of the history, composition and use of drugs, alcohol and tobacco, including their reactions relative to therapeutic values, their known and potentially injurious effects on the human body, and methods for prevention, intervention and rehabilitation of those who would use, or have used, these substances.
KIN300 - Coaching Methods
(2 credits) A study of organization skills, interpersonal relations and psychological approaches to coaching athletes and teams in contemporary society.
KIN302 - Coaching Topics
(2 credits) This course examines the fundamental techniques and strategies in coaching specific sports. The sport to be studied will vary each semester. Practice and contest skills and strategies for coaching will be emphasized for the appropriate sport. Prerequisite: sophomore class standing.
KIN330 - Exercise Testing and Prescription
(3 credits, alternate years, consult department) Provides knowledge and practical experience in physical fitness assessments, interpretation of assessment results, and exercise prescription. Emphasis is placed on assessments within a clinical or research setting. Prerequisite: KIN325WI or permission of instructor. Note: Three lectures and one 90-minute laboratory period per week. A fee is associated with this course.