Erica Vonk '00 Director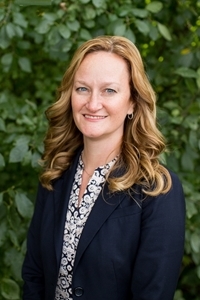 Passionate about seeing rural communities thrive and leaders reach their full potential, Erica Vonk is a Siouxland native who believes life is full of opportunities. She looks forward to contributing to Northwestern College's vision to be the leading Christian college focused on student success and Christ-centered work for the common good through her work as the Center for Innovation & Leadership's director.
A Northwestern business professor since 2015, she played a role in developing the college's interdisciplinary entrepreneurship minor and has connected students with Siouxland organizations through her courses in leadership, organizational behavior and entrepreneurship. She also has experience in agricultural finance and management as well as economic and community development. Her community contributions have included serving as a foster parent, a member of her church's leadership team, and a board member and volunteer with the Seahawks Swim Team.
A Northwestern College graduate, Vonk holds an M.B.A. from the University of South Dakota and is earning a Ph.D. in organizational leadership from Concordia University Chicago.