VIRTUAL
Leadership in Education Conference
Changing Paradigms for Changing Times

The conference has been canceled for this year. 
For many teachers and leaders, this year is already full. We recognize you may not be able to add even one more thing.

We plan to offer the conference again in Fall 2021!
 
Monday, October 19 | 8:30 a.m. to 3:30 p.m.


Virtual Event | Join live & have access to all sessions following the event!
Download event flyer


Cost: $90 | Group rate: $75 (6 or more) 
Credit available: 1 License Renewal credit $35 | 1 Graduate credit $150

Effective education leaders are innovative in their approach to leading, teaching and learning - this year more than ever before! The virtual Leadership in Education Conference is one-day, packed with actionable concepts for teaching and leading in the 21st century. Take away fresh insight, practical strategies, and meaningful inspiration for leading in our changing times.

Attend live from anywhere - and access ALL the recordings afterwards!
The sessions are organized into tracks geared for systems leaders, teacher leaders and classroom leaders for ELL success. Join us live for interactive Q&A opportunities, and have access to ALL the recorded sessions for one-week following the conference. 

When you grow in your leadership, you can maximize your impact and help transform education.

The registration deadline is October 15th. 
Please contact online@nwciowa.edu or 712-707-7388 with any questions about registration. 

Group discount
Bring your team of 6 or more for the discounted group rate of $75 for each attendee. Use the group registration form and then email an Excel list with information for all registrants to online@nwciowa.edu after submitting the form. 
Download Excel template here.
---

Keynote
Eric Sheninger
Eric is a Senior Fellow and Thought Leader on Digital Leadership with the International Center for Leadership in Education (ICLE).
Prior to this he was the award-winning Principal at New Milford High School. Under his leadership his school became a globally recognized model for innovative practices. Eric oversaw the successful implementation of several sustainable change initiatives that radically transformed the learning culture at his school while increasing achievement. His work focuses on leading and learning in the digital age as a model for moving schools and districts forward. This has led to the formation of the Pillars of Diqital Leadership, a framework for all educators to initiate sustainable change to transform school cultures. As a result Eric has emerged as an innovative leader, best selling author, and sought after speaker. 
---

Endnote
Dr. Dana Schon
Dr. Dana Schon serves as the professional learning director for School Administrators of Iowa. She coordinates, plans, and delivers learning opportunities to support Iowa's principals, superintendents, and central office leaders in having impactful leadership. Through this role she has studied, developed, and promoted the concept of a quality leadership-life fit.
Dana has a doctoral degree in educational leadership from Drake University and two master's degrees (Wayne State College and Drake University). She is a certified steward of the Intentional Energetic Presence methodology, an approach to showing up as our best selves created by Anese Cavanaugh. A perpetual student and life-long learner, she continues to participate in trainings and classes.
---
Conference Tracks
These sessions are geared most toward leaders who are in charge of developing systems within education. Anyone can attend, and you'll have access to all recordings following the event!
Topics in this track:
4 keys to effective blended learning
Leading with equity in mind
Creating a culture of connection, positivity and health
The power of mentoring - who are the mentors in your life?
These sessions are geared toward teacher leaders, led by expert instructional coaches. Anyone can attend, and you'll have access to all recordings following the event!
Topics in this track:
Building teacher capacity in blended learning: coaching through Covid
Learning how to do fewer things better
Tools and best practices for today's teacher leader
Strategies for leading PLC's and building trust
These sessions are geared toward educators providing for ELL students for success. Learn ways to make sure your students thrive in education. 
Topics in this track:
Leveraging Universal Design for Learning with EL Learners 
Unlocking the language advantage of Imagine Learning
Interpreting student report data, utilizing instruction tools and exploring the stages of language acquisition
Strategies for ELL success (with focus on the math classroom)
---
Conference Partnership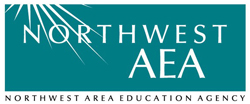 The Leadership in Education Conference is offered by Northwestern College Graduate School & Adult Learning in partnership with Northwest AEA.