Kim Van Es Lecturer in English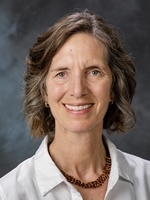 Education:
M.A., University of Iowa
B.A., Dordt College
712-707-7344
kvanes@nwciowa.edu
KEPH 2nd
Kim Van Es coordinates the English teaching major at Northwestern. She specializes in the teaching of writing and grammar. She enjoys taking her students to professional conferences such as the National Council of Teachers of English and the Festival of Faith and Writing. In 2013 she received Northwestern's first Faculty Inspirational Service Award, given for going above and beyond expectations, personifying a strong Christian commitment, and serving as an inspiration to the campus community.
ENG277 - Young Adult Literature
This course examines the field of young adult literature in its various genres: realistic fiction, historical fiction, fantasy, nonfiction, and poetry. Students will develop criteria for book selection and learn ways to respond ethically to young adult literature.Prerequisite: ENG250LC. ENG292 is also recommended. (2 credits; alternateyears, consult department) Note: Students taking ENG308x should take this course during the samesemester.
ENG283 - Grammar in the Classroom
Most middle schools and high schools expect their English teachers to teach writing and grammar. What are the goals of teaching grammar? What grammar should young writers know? This course takes a rhetorical approach to the study of grammar and to its use in the teaching of writing. Prerequisite: IGE101 and sophomore standing. (2 credits)
Professor Van Es has taught at the high school and college level for 20 years. She has also written for the Write Source Company and served as a copy editor for 12 books.
National Council of Teachers of English
Iowa Council of Teachers of English