Dr. Elizabeth Pitts Director of Career and Calling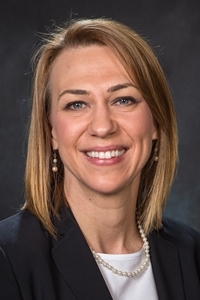 Dr. Elizabeth Pitts serves Northwestern students as director of the college's Compass Center for Career and Calling. She has a Ph.D. in education, with an emphasis in higher education, from George Mason University, where her dissertation focused on the power of experiential education—specifically the ways in which study abroad programs shape the faith and intercultural development of college students.
Dr. Pitts has more than 15 years of experience in higher education. In most of her previous roles, her responsibilities focused on helping students transition from college to career. She served as a faculty member and internship director for the American Studies Program, a semester program based in Washington, D.C., that is offered by the Council for Christian Colleges & Universities (CCCU). She also served the CCCU as a campus relations manager and a marketing and alumni specialist. At Charleston Southern University, she worked as the assistant director of career services and later as assistant to the president. She graduated from Wheaton College (IL) with a bachelor's degree in English and earned a master's degree in English from the College of Charleston.