Vaughn Donahue '08 Instructor in Communications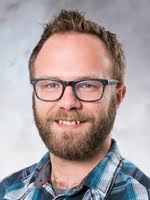 Education:
B.A., Northwestern College
Vaughn Donahue is a freelance graphic designer based in Orange City, serving clients both locally and nationwide. He provides logo design and branding, website design, and all forms of print design, including brochures, booklets, book covers, flyers and other promotional items. His clients have included Hope Haven, Inc., Powell Broadcasting, the MOC-FV School District, and the Christian rock group dc Talk, as well as Orange City businesses such as Town Square Coffeehouse, Siouxland Travel, De Jong Chiropractic and the Weber Law Office. He is a Northwestern grad with a degree in communication studies.
COM315 - Writing and Design for the Web
(3 credits; alternate years, consult department) Study of writing and design for a Web environment. Students will analyze Internet sites and design sites of their own, using a standard program for Web design. Prerequisites: ENG184 or equivalent and any of the following: COM263, ART220, ART230, or permission of instructor.
Orange City Chamber of Commerce
Siouxland Chamber of Commerce
Northwestern College Theatre Patrons board member