Dr. Mjumo Mzyece Professor of Management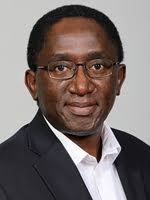 Education:
Ph.D., Strathclyde University, Scotland
MBA, Duke University
M.Sc., Strathclyde University, Scotland
B.Eng., Manchester University, England
712-707-7415
mjumo.mzyece@nwciowa.edu
VPH 205F
Dr. Mzyece has over 25 years of international experience in academia and industry. A highly credentialed professor, he previously taught at the University of the Witwatersrand in Johannesburg, South Africa, and at the French South African Institute of Technology in Pretoria, South Africa.
His research centers upon the intersection of business and technology—particularly business models for next-generation digital networks, such as 5G and 6G. Widely regarded as a thought leader in the tech industry, Dr. Mzyece has worked as a subject matter expert on several key initiatives and projects, including the R&D working group of the South African 5G Forum and as lead consultant on a feasibility study for the South African government's Centre for Public Service Innovation.
In the industrial sector, Dr. Mzyece has mostly recently served IBM Research on its Johannesburg lab advisory committee, as senior offering manager at IBM in Research Triangle Park, North Carolina, and as senior manager and general manager of the smart industries unit at The Innovation Hub Management Company (TIHMC) in Pretoria, South Africa. During his tenure at TIHMC, he established partnerships with leading tech companies, including IBM, Cisco and MTN, and counseled the Gauteng Provincial Government on policies concerning technology and advanced manufacturing.
In addition to a Master of Business Administration degree from Duke University, Dr. Mzyece holds a master's degree (distinction) in communications technology and policy and a Ph.D. in electronic and electrical engineering both from Strathclyde University, Scotland, and a bachelor's degree (honours) in electronic and electrical engineering from Manchester University, England.