Dr. Daniel Huey Assistant Professor of Music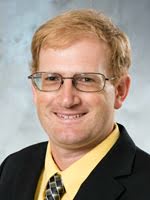 Education:
Ph.D., University of Massachusetts Amherst
M.A., University of Iowa
B.Mus., University of Illinois
712-707-7063
daniel.huey@nwciowa.edu
DMH 105
Daniel Huey serves as assistant professor of music, teaching music theory and courses for the worship arts program. Prior to joining Northwestern's faculty, he was an assistant professor of music at Shorter University in Georgia. He also taught at Rensselaer Polytechnic Institute in New York; at the University of Iowa, where he earned a master's degree in music theory; and at the University of Massachusetts Amherst, where he earned a doctorate in music theory.
MUS101 - Music Fundamentals
This course provides training in basic musical skills including concepts of pitch, rhythm and time signatures, scales and key signatures, intervals, triads and seventh chords and rules for part writing. It also provides an introduction to aural skills and to understanding Christian approaches to music and music-making.(2 credits)
MUS115AE - Music of the Church
(3 credits) (IGE option under Aesthetic Experience) This course provides an introduction to the fascinating and frustrating history of how Christians have used, created, manipulated, or avoided music in their worship of God. Although each of us comes from our own denominational, geographical, and cultural backgrounds, we will seek to understand the whole historical sweep of Christian church music, as well as our own place in that history.
MUS211 - Music Theory III
This course will teach the fundamentals necessary for performing, composing/arranging, teaching, directing, writing about, and recording/producing music. Related topics such as music history, performance practice and music technology are also explored and an in- depth study is made of the Christian perspective on music and music-making.(4 credits)
MUS211L - Music Theory III Lab
MUS334 - Composition Lessons
Private instruction is offered in keyboard, voice, brass, woodwind, percussion and string performance.Prerequisite: MUS112 or permission of instructor(1-2 credits)
"Textual, Chodal, and Tintinnabular analysis of Arvo Pärt's The Beatitudes." • Arvo Pärt and Contemporary Spirituality (International Conference)—Boston University, March 25-27, 2010; Music and the Written Word Conference—University of California at Santa Barbara, January 16, 2010
"Johnston's Eight-pitch Scale: Implications for Conventional Chord Progressions, Triadic Harmony, and Parallel Thirds and Sixths in String Quartet No. 10." American Innovators series: Microtonal Weekend—Wright State University, March 13, 2010
"Anaysis of 53-tone Serialism in Ben Johnston's String Quartet No. 2." Second International Meeting of the Society for Mathematics and Computations in Music—Yale University, June 20, 2009; 19th annual Pacific Northwest Graduate Student Conference—University of British Columbia, September 25, 2008
Assistant professor of music, Shorter University, Rome, GA
Adjunct professor of music, Rensselaer Polytechnic Institute, Troy, NY
Graduate teaching assistant, University of Massachusetts Amhert and the University of Iowa