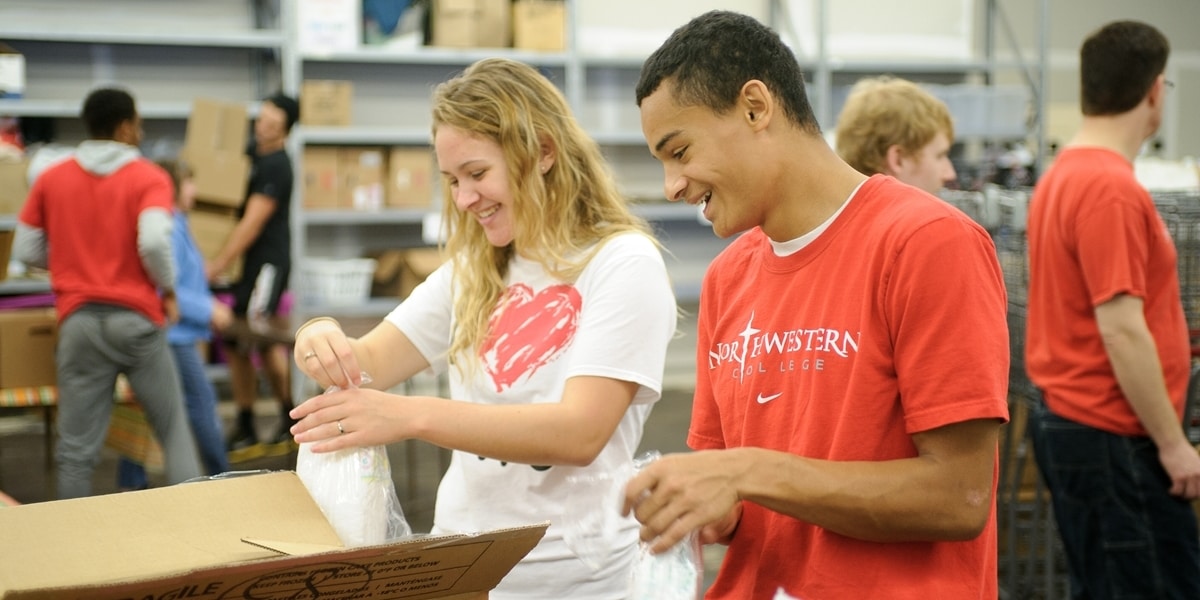 Service-learning
A Northwestern education is for your head and your heart. So in addition to theories and ideas from books—and class lectures and discussions with professors—you'll also have the chance to put what you're learning into practice through serving God and others. Among the course options each semester are classes specially crafted to include opportunities to learn by serving in the community. For example:
ENG 277 Young Adult Literature
After preparing and practicing "book talk" presentations aimed at high school freshmen, students presented their book talks to ninth graders at a local high school. The high school students were given an opportunity to mark those titles that sounded most interesting, and a list of recommendations was given to the school library as well as the public library in that community.


---

KIN 201 Personal and Community Health 
Students used the results of health history questionnaires completed by women living at The Bridge transitional housing facility to develop appropriate personal health and fitness suggestions for The Bridge residents. Students also hosted a Celebrate Health event for Bridge families (women and children) at the college's fitness center that included a demonstration of the center's exercise equipment and a pass to use the center free-of-charge.
Service-learning partners
2nd Chance Depot
Atlas Orange City and Sioux Center
Bethany Christian Services
Bibles for Missions (thrift store)
The Bridge (transitional housing)
County recycling agencies
Habitat for Humanity
Heritage Village (senior care center)
Hope Food Pantry
Justice for All
Landsmeer Retirement Home
Love Inc.
Melissa's Hope Chest
MOC-Floyd Valley schools
Orange City Christian School
Orange City Public Library
Sioux County Conservation
Special Olympics
Zestos