Northwestern College boasts highest enrollment in nine years
Wednesday, September 7, 2016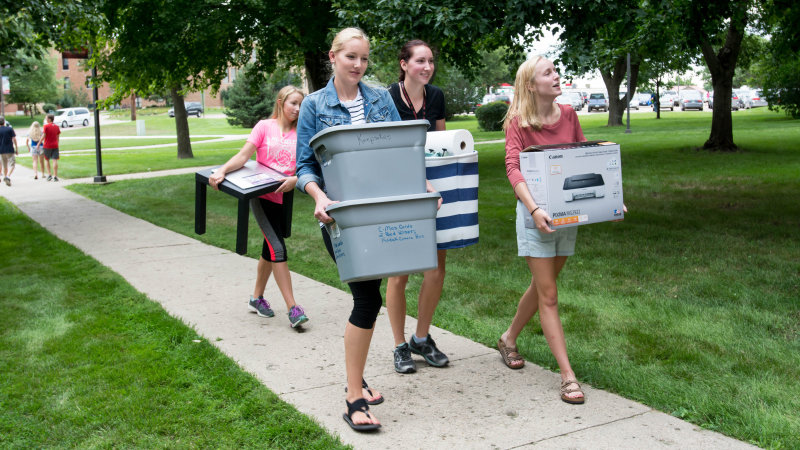 Northwestern College has recorded its highest enrollment in nine years, with 1,260 students enrolled, an increase of 50 from last fall.
A high rate of freshman-to-sophomore retention has contributed to the increase, with 81.9 percent returning, second only to last year's 82.2 percent rate. "This retention rate tells us we're attracting students who are a good match for Northwestern and, secondly, that they are having a good experience here," says Mark Bloemendaal, dean of enrollment and marketing.
A record number of transfer students has also contributed to the strong fall enrollment. Fifty-three students have transferred to Northwestern, which Bloemendaal attributes to the college's strong academic reputation, Christian mission and community. "Our students are having a good experience and sharing that with their friends, who want to benefit from all Northwestern has to offer. We're finding that many transfer students are excited to go to a school like Northwestern that integrates faith and learning," says Bloemendaal.  
Northwestern has also set a record in the number of graduate students. The college's Master of Education programs, only in their second year, have an enrollment of 161. "Our Graduate School & Adult Learning staff and the education department have developed really high-quality programs that meet the needs of educators, are affordable and have a lot of flexibility," says Bloemendaal. "Again, current students are telling others about the quality of the programs."
Northwestern has enrolled 43 more new undergraduate students than last year, and their academic credentials are strong. The average ACT score of Northwestern's freshman class is the third highest on record, at a 24.6 composite, well above the Iowa average of 22.2 and the national average of 21.0. "We're very pleased with the quality of our freshman class," says Bloemendaal. "We've enrolled students with strong academic credentials who have given us every indication they'll thrive here and contribute positively to our Christian academic community."