Dr. Adrienne Forgette Dean of the Faculty
712-707-7077
aforgett@nwciowa.edu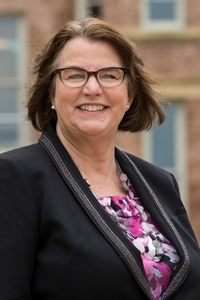 As dean of the faculty, Dr. Adrienne Forgette is responsible for ensuring the quality of student learning. She oversees the faculty and curriculum, as well as the Center for 21st Century Learning, which offers high-impact experiences through the programs of the Global Education Center, the Franken Leadership Center, the Honors Program, and Integrative General Education.
Forgette supervises the faculty and works on faculty development projects, hiring, and evaluations. From 2004 to 2006 she chaired Northwestern's self-study team during the process of re-accreditation by the Higher Learning Commission of the North Central Association. She has led task forces on strategic planning, faculty governance, and planning for a new natural and health science facility. She has also presented on assessment, faculty evaluation and governance at the annual meetings of the Higher Learning Commission and the American Association of College and Universities.
A clinical psychologist with research interests in attitudes and values, Dr. Forgette was originally hired as a psychology professor by Northwestern in 1995. She has a doctorate in clinical psychology from Fuller Theological Seminary's Graduate School of Psychology, a master's degree in theology from Fuller, and a bachelor's degree in psychology from California State University, Fullerton. Prior to teaching, she served as a crisis counselor/advocate for an organization dedicated to preventing family abuse and as an outpatient therapist for a counseling clinic.