Jennifer Rogers Assistant Professor of Kinesiology; Athletic Training Program Director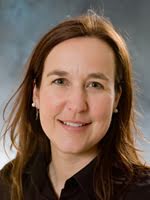 Education:
Ph.D., Rocky Mountain University
M.S.Ed., University of Kansas
B.A., Briar Cliff College
712-707-7307
jrogers@nwciowa.edu
BC
Professor Rogers has a master's degree in education with an emphasis in biomechanics and sport psychology. She earned a doctorate in athletic training from Rocky Mountain University of Health Professions with a dissertation on how an athletic trainer's physical appearance can affect students' perceptions of their competence. Her research interests are in the areas of sport psychology and the healthy lifestyle choices of her professional colleagues and athletic training students.
KIN234 - Prevention and Care of Athletic Injuries
(3 credits)An introduction to athletic injury prevention, recognition, evaluation, care and rehabilitation: including basic wrapping and taping techniques.Prerequisite: BIO102, 115, 121 or permission of instructor. A fee is associated with this course (http://www.nwciowa.edu/tuition/fees).
KIN243 - Recognition and Evaluation of Athletic Injuries I
This course aims to give students the necessary information and practice to perform injury evaluations. This course will stress the importance of recognizing the mechanisms of injury, knowing the related anatomical structures, and performing the appropriate special tests to determine assessment of injury. Students will also be instructed on evaluation procedures such as HOPS and SOAP. Prerequisite: KIN234. (3 credits)
KIN244 - Recognition and Evaluation of Athletic Injuries II
This course aims to give students the necessary information and practice to perform injury evaluations. This course will stress the importance of recognizing the mechanisms of injury, knowing the related anatomical structures, and performing the appropriate special tests to determine assessment of injury. Students will also be instructed evaluation procedures such as HOPS and SOAP. Successful completion of KIN234, KIN243 and either BIO102, BIO115 or BIO121. (3 credits)
KIN349 - Organization and Administration of Athletic Training
This course will build on knowledge learned in prerequisite courses. Course content will concentrate on administrative duties in athletic training, history of the NATA, and current topics in sports medicine.Prerequisites: KIN234, 243 and advancement to level 3 or 4 of the athletic training program.(2 credits, alternate years, consult department)
KIN355 - Psychosocial Aspects of Sport for Health Care Professionals
This course will introduce those entering into a health care profession how to cope with various psychosocial aspects of injury, psychology of injury, and counseling techniques. Students will also learn various mechanisms to cope with psychosocial issues among those they are caring for as well as themselves.Prerequisites: KIN234, 243, PSY111 or permission of instructor.(2 credits, alternate years, consult department)
KIN451 - Practicum in Athletic Training V
Provides practical experience with skills related to modalities and the psychosocial aspects of the athlete/physically active individual. This course will provide competency and proficiency assessment of student's knowledge and skills gained to ensure learning over time.Prerequisites: KIN351, 352 and acceptance into the athletic training education program.(1 credit)
KIN452 - Practicum in Athletic Training VI
Provides practical experience with skills related to rehabilitation and the organization and administration in athletic training. This course will provide competency and proficiency assessment of student's knowledge and skills gained to ensure learning over time.Prerequisites: KIN351, 352, 451 and acceptance into the athletic training education program.(1 credit)
Head Athletic Trainer, Northwestern College
Athletic Trainer, Center for Neuroscience, Orthopedic and Spine, Sioux City, Iowa
National Athletic Trainers Association Membership (NATA)
Mid-America Athletic Trainers Association Membership (MAATA)
Iowa Athletic Trainers Society Membership (IATS)
NATA-BOC Certification (June 7, 1998)
State of Iowa Board of Examiners Licensure
CPR, AED & First Aid and Instructor Certification through American Heart Association