In the action
From a young age, Fernando was positively impacted by sports and his coaches, athletic trainers and teammates. Now he's an AT who's leaving a positive mark on athletes every single day - right in the action and supporting on the sidelines at West Hills College in Coalinga, CA.
---
Living out my calling

From a very young age, sports have surrounded my life. Throughout my career as a student-athlete, I remember getting help from coaches, teammates, and other athletic trainers. The advice that I learned from them and the help that I received along the way really had an impact on me and I envisioned myself in a career in which I would have the opportunity to help others. Athletic training gives me the opportunity to help others on a day to day basis and to me that is one of the most important reasons why I chose the athletic training career.
Making a lasting & positive impact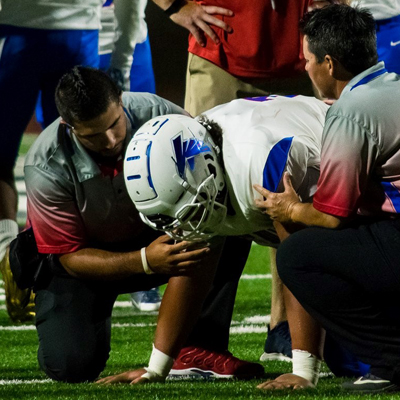 The thing that I love about being an athletic trainer is having the opportunity to leave a positive mark on an athlete every single day. Whether it be from doing a treatment on them, creating a rehabilitation plan for them, hearing them out for anything they want to talk about, or just building a personal relationship with them.
This is what I love the most.

This career has allowed me to meet athletes from different backgrounds, cultures, and environments and I feel that it allows me to learn a lot about them and a lot about myself in the sense of being understanding of the personalities and characteristics of my athletes.
I think that my ability to connect with my athletes allows me to be able to care for them in a manner that I feel proud about, that Northwestern would be proud about, and most importantly that God would be proud about.
Feeling supported, prepared & confident
Northwestern and the athletic training major did an excellent job of preparing me for the career. The classes, although challenging at times, push you to become a better student and prepare you to become a successful graduate. The support from all of the professors and preceptors involved in the program is by far some of the best I have received throughout my academic career.
Trained with practical experience
The athletic training education program was designed to give me the opportunity to experience different clinical rotations in different settings such as physical therapy, chiropractic, strength and conditioning, physicians and with different sports. I felt that the way in which I was prepared for my classes and all of the education I received from Northwestern's program allowed me to pass my BOC exam on the first try.