Caring for athletes
Emily always knew she would help others in some way. Working as an athletic trainer gives her the opportunity to guide athletes on a path to recovery and back to the sport they love! Currently working as an AT with Avera Health at the University of Sioux Falls, Emily's fulfilling her passion for caring for others – and making a big impact on her athletes' lives!
---
Building strong connections
I have always felt called to help others in some way. As an athletic trainer, I am able to care for not only the physical health of my athletes, but also emotionally. Athletes and athletic trainers tend to build strong connections through all the time spent together in treatments, practices, games, and rehabilitations. This is especially true when they undergo a major injury that requires lots of rehabilitation to return to play.

Role as rehabilitator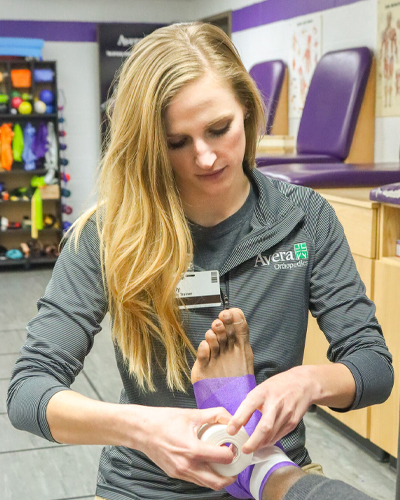 Together we pour countless hours into building back the strength they need to get back into the sport they love, and it can be an emotional battle as well as physical.
It is so rewarding to see an athlete get back on the court doing what they love and knowing I played a part in helping them get there.
Exciting career and future
I love the variety in my workdays. You never know when an injury may occur, so the day to day of my job stays interesting. The most exciting thing about the athletic training field for me is the push to continue and improve our profession.

The move to an entry-level master's degree shows that we are dedicated to improving the quality of healthcare we are able to provide to our athletes/patients. The strong movement in research within the field also really excites me, because we are learning so much about treatment and prevention of various injuries.

Fully equipped

I have gained so much from my education at Northwestern that I am grateful for in my daily work. The NWC AT program does a great job of getting students into different environments where they can interact with coaches and athletes, as well as other healthcare professionals. Athletic training also requires many hands-on skills, and I was given many opportunities to practice these skills in real-life situations, which helped me gain confidence and learn to think on my feet.

Prepared for the BOC

My professors at Northwestern did a great job of preparing me for the BOC licensing exam. I was able to approach the exam with confidence in knowing I had all the tools I needed to succeed.