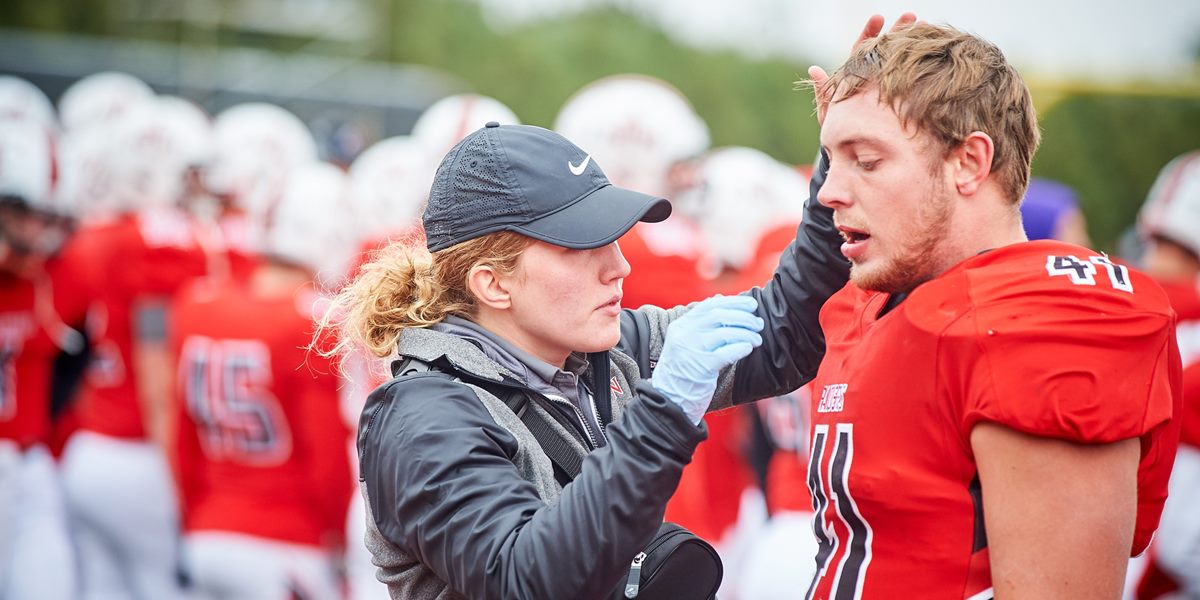 Athletic Training M.S.
Next start June 2022 | Credits 57 | Cost/credit $525 | Program length 2 Years (6 semesters) | Format In-person
Prepare for a career in athletic training.  As an athletic trainer (AT), you may be one of the first on the scene, quickly assessing an injury. You have the opportunity to serve many types of patients, by providing assessment and preventative, therapeutic or rehabilitation care of injuries. Through Northwestern's faith-based program, you will be equipped as a multi-skilled health care professional. Learn how to provide quality, ethical care to athletes or patients in a variety of settings from high school, university athletics and professional sports to hospitals and corporations. Explore how your faith integrates with your role as an athletic trainer.  
Make an impact by helping athletes feel and perform at their best. 
Program description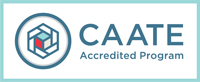 Northwestern College's Master of Science in Athletic Training (MSAT) is fully accredited by CAATE.
The 6-semester graduate program prepares students for licensure as an athletic trainer (AT). Students complete 57 graduate credits over 6 consecutive academic terms, including the first 4 terms of practical skills-based learning and clinical experiences at Northwestern College and in the surrounding community. The final 2 terms of advanced clinical experiences and online coursework enables students to complete their clinical rotations in diverse settings around the country.  
Following the completion of the program, Northwestern graduates will be well prepared to sit for the Board of Certification (BOC) exam to become certified athletic trainers. 
Next cohort begins June 2022. The application opens June 30, 2021.
See how to apply and prerequisites.
---
AT program goals
Exceptional training. Students will demonstrate the knowledge, skills, and abilities of a competent athletic trainer.
Faith integration. Students will articulate the influence of their Christian faith on their practice as an athletic trainer.
Ethical practice.  Students will demonstrate professional and ethical behaviors in their research, clinical experiences, and collaboration with colleagues.
Collaborative environment. Students will communicate effectively and respectfully with others regardless of their culture, social status, or beliefs.
Professional preparation. Students will contribute to the body of knowledge in athletic training.
Hands-on experience
Northwestern's program is uniquely focused on training through real practice. In fact, you'll spend more than 800 hours in practical experience. Throughout the 2-year MSAT program, you will gain hands-on clinical experience with diverse patient populations and settings. At Northwestern, you won't apply for a chance to work with sports teams, you will have direct and meaningful practice right away.
Simulation and case studies are incorporated throughout the curriculum to develop clinical decision making and problem-solving skills that you will use on the job. 
Direct hands-on experience may include:
NWC Red Raider athletics
High school athletics
Physical therapy clinic
Family practice medical clinic
Orthopedic clinic
Student-initiated options also available
Learn through a variety of clinical experiences to prepare for diverse career opportunities. In AT clinical experiences, you learn alongside a certified athletic trainer or physician preceptor. In supplemental clinical experiences, you will be supervised by health care providers other than athletic trainers or physicians. In the final year of the program, hone your skills in an immersive clinical experience, designed to fit your goals.
*Students will be responsible for all travel arrangements and expenses to and from all clinical sites.   
---
Quality matters
You want to pass the licensing exam on the first try and start impacting athletes. That's why quality matters.
Northwestern graduates who have taken the Board of Certification examination for athletic trainers have proven the excellence of our program. 
---
Guaranteed application process for Northwestern College undergraduate students
Northwestern's athletic training 3 + 2 program enables students to graduate with both a Bachelor of Arts in Exercise Science and a Master of Science in Athletic Training (MSAT) in five years. Fast track your education and start your career earlier! Admission to the NWC MSAT program is competitive, and the Northwestern College MSAT program plans to accept approximately 15 students per year. The pre-athletic training courses are aligned to meet the MSAT pre-requisite courses and Northwestern students receive guaranteed admission when they meet all admission criteria.
---
Accreditation
Northwestern College is accredited by the Commission on Accreditation of Athletic Training Education ( CAATE) for the Master of Science in Athletic Training program.