Rik Dahl '97 Lecturer in Education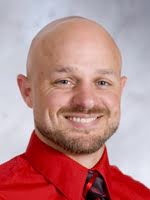 Education:
M.A., University of Colorado
B.A., Northwestern College
712-707-7424
rdahl@nwciowa.edu

A former high school principal, Rik Dahl teaches educational psychology, social studies methods, and classroom management courses for Northwestern's education department. Prior to becoming an administrator, Dahl taught 4th grade in a public school in Colorado. He also managed the expenditures and programming for three school districts funded by $1.2 million in state and federal grants.
Dahl earned a bachelor's degree in elementary education from Northwestern and a master's degree in administrative leadership and policies studies at the University of Colorado-Denver. In addition to teaching in NWC's education department, he serves as the college's head wrestling coach.
EDU102 - Foundations of Education
(2 credits) This course provides philosophical, historical, social and economical foundational background for students considering the teaching profession.Note: This course includes a field experience. Students must earn a C- orbetter in order to fulfill program requirements for elementary licensure.
EDU304 - Educational Psychology
The application of psychological principles to the learner, the learningprocess and the learning situation. This course not only explores learningtheories that impact education today, but also has an emphasis on developingappropriate motivation techniques, creating developmentally appropriate andproductive learning environments, developing classroom management, as wellas developing authentic and appropriate evaluation and assessment. Prerequisites: EDU102, PSY221SS or 224, and junior class standing. (3credits)
EDU315 - Behavior Management and Classroom Instruction
This course is designed to provide an overview of various models for classroom and behavior management. The course will emphasize both theoretical and practical dimensions of behavior and social concerns.Prerequisite: EDU206.(3 credits)
EDU329 - Teaching Social Studies in the Elementary Classroom
(2 credits) Foundational course for teaching social science in the elementary classroom. Methods and materials will be developed as they relate to modern practices of teaching social studies. This course will focus on the broad range of topics covered in this curricular area, including economics and civic literacy. This course includes field experience.Note: This course includes a field experience. Students must earn a C or better in order to fulfill program requirements for elementary licensure.Prerequisite: admission into teacher education program.
Secondary Principal, Big Sandy School, Simla, Colorado
Secondary Principal, Limon Public Schools, Limon, Colorado
Director of Learning, Limon Public Schools, Limon, Colorado
Fourth Grade Teacher, Limon Public Schools, Limon, Colorado